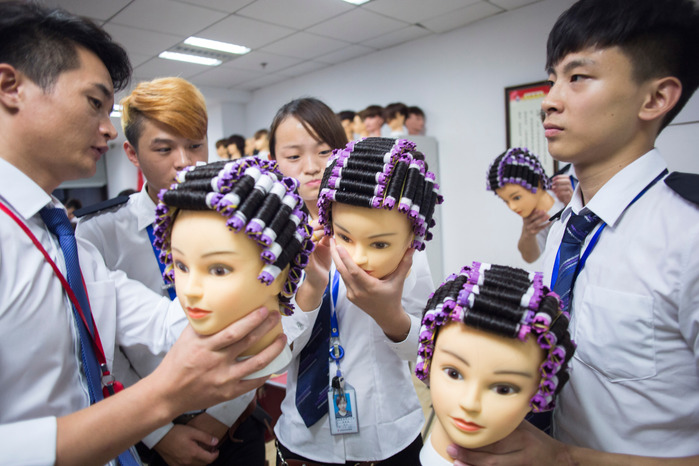 Hairdressing, Shanghai Styles.
Hair Salons are abundant in China, they're inexpensive and include perks like shampoo wash, blow dry and head massage as basic, all for just $5. Competition among salons is tight and there are some high street favorites, such as Wenfeng Hair and Beauty Salon. To stand out of the crowd they have modelled their business on the military; the men who are almost exclusively the hairdressers wear pseudo navy style uniforms. The woman whom are the beauticians wear a female officer / air stewardess uniform complete with perhaps too short red skirts with stockings and high heels. All of them with a star ranking shoulder insignia displaying their rank and position.
Staff for Wenfeng come from all corners of China, most are young, have no college degree and are in search of work and higher wages in big cities. They are all trained at Wenfeng's headquarters and boarding college in Shanghai.

Recruits are trained in an almost military fashion, roll call begins at 7am after breakfast and includes standing to attention 'on guard', singing and even dancing. Classes begin immediately after and continue through till dark, ending with more 'collective training' in the HQ's large square.

These photos are from several days spent at their training college. Further images are available on request.
The work has been published on on BBC, GEO (Germany) Le Repubblica, CSM and TimeOut Shanghai. All images © Jonathan Browning.